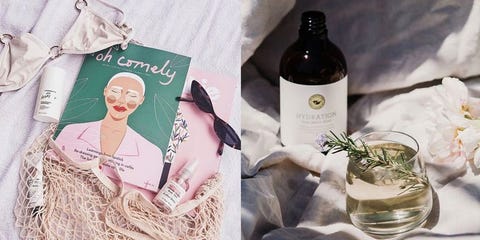 Instagram@drroebucks/@thebeautychef
When you think of the stereotypical Australian beauty routine, coconut oil, basking in the sun and dry, salty hair are probably the first things that come to mind. And, to be fair, some of that is probably spot on. But, recently there's been a wave of emerging under-the-radar Australian beauty brands changing the game. We're calling it, A-beauty is officially the new K-beauty.
In many ways the pioneers of the natural movement, Australians have long utilised their environmental resources to cultivate their 'glow'. As clean beauty gains even more traction, (that's non-toxic formulas to you and me), the new guard of Australian brands are gaining much deserved recognition for their pure, unique ingredients and enviably simplistic approach.
'Australia has always been known for its natural, high quality products, so now that non-toxic skincare has become so important and on-trend, it's only natural that Australia has been having a major moment,' says Dr Roebuck's CEO Kim Roebuck. 'The purity of our environment results in high quality beauty products when made in Australia. For example, we have some of the purest waters in the world, and skincare products are formulated with water.'
'Australia has such a unique fauna and flora which modern science is now helping us discover previously unknown benefits of,' agrees Sand & Sky founder Sarah Hamilton. 'The indigenous plants withstand some of the harshest climates, so it makes sense that they're full of potent ingredients.'
'It's also about attitude,' continues Kim. 'Simplicity, convenience and a bit of quirkiness are what the Aussie girls are all about!' That simplicity also spills into their make-up routines, which tend to be minimal and easy, favouring bare skin over anything else. 'Life for Aussies starts at the beach; enjoying the outdoors is our best secret. We don't like to be stuck in the bathroom for hours. It's all about enjoying life!'
1
The Beauty Chef
Founder Carla Oates is an encyclopaedia of gut health, so there's no one we would trust more to re-balance a dodgy internal micro biome with powders, liquids and even a skincare range.
Advertisement – Continue Reading Below
2
Bali Body
If you've ever been to Bali, you'll know one of the many perks is inevitably coming home with an otherworldly glow. With Bali Body, the mission is to keep up that bronzed-babe-at-the-beach vibe with their selection of bronzing oils and SPF.
Advertisement – Continue Reading Below
Advertisement – Continue Reading Below
4
Dr Roebuck's
Developed by Dr. Roebuck (clue is in the name) the brand has recently been re-packaged beautifully to illustrate the high-active, natural ingredients. Our favourite Australian brand, hands down – there isn't a product in the range we wouldn't recommend.
Advertisement – Continue Reading Below
Advertisement – Continue Reading Below
6
Sand & Sky
Twin sisters with a mission to share the benefits of Australian pink clay with the world, Sand & Sky products include a really gorgeous amount of natural ingredients such as Kakadu Plum (which contains 55 times more vitamin C than an orange) and Mangosteen.
Advertisement – Continue Reading Below
7
Lanolips
Formulated with lanolin which mimics human skin lipids and holds up to 400% its weight in moisture, Lanolips is 100% natural, cruelty-free (NB: it does come from the wool of sheep) and the perfect multi-purpose balm.
Advertisement – Continue Reading Below
https://i1.wp.com/vogenix.com/wp-content/uploads/abeauty-1534345537.jpg?fit=1200%2C600&ssl=1
600
1200
Steve
https://vogenix.com/wp-content/uploads/2018/02/vogenix-tanning-lotion-logo-.png
Steve
2018-08-16 06:19:09
2018-08-16 06:19:09
How A-Beauty Is Taking Over The K-Beauty Skincare Hype